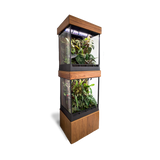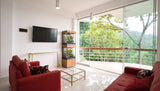 *** Our El Oro Tower Systems will not be available for order until Spring of 2024***
 Click HERE to upgrade your vivariums to a lightweight Alumalite back panel.
The El Oro is the gold standard for maintaining and displaying vivarium systems. Each El Oro includes:
Tower display stand in your choice of Kiaat (shown), Cherry, Walnut or black
2 Amazonia vivariums with integrated lights and air circulation systems, passive ventilation and drain systems
2 water reservoir/sumps
All necessary wiring and power supplies
Tower Display Stands (and associated systems) are only available for a limited time once per year, and are custom made to order and shipped directly from our supplier in South Africa.
Dimensions: 70 7/8 x 22 5/8 x 20" (1800 x 575 x510 mm)
Weight: 172 lbs (45 kg)
ORDERING INFO: We charge $25 deposit to hold your order through the ordering period.  Once the ordering period is finished, will send an invoice for the remaining amount.  You may cancel the order any time until that point, and we will refund your deposit.
Pricing for the El Oro is as follows:
Kiaat, Cherry, or Walnut Towers:        $1975
Black Towers:                                      $1875
We bill shipping charges for the display stand separately, once it is completed and ready to ship from South Africa (we require 10 unit orders to begin the build process, which may take a total of 3-4 months from the time you order to receiving your tower). Buyer is responsible for shipping, duty, import fees and brokerage changed by their respective country. Stand purchases are non-refundable, and once a veneer finish is specified, it is not changeable. Expected shipping costs of the tower stand ranges from $300 -450 USD, depending on final delivery destination.
El Oro Tower System does not come with misting system, Neptune Controller or plants.
Made in the U.S.A.