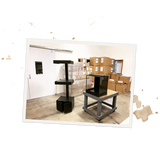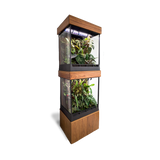 ***Our Tower Display Stands will not be available to order until Spring of 2024***
Our tower display stands have been designed specifically for use with InSitu vivariums to create striking and functional displays, whether as a single tower or configured side-by-side to display an entire collection. 
AVAILABLE FINISHES & DETAILS
Each stand is constructed of a black powder-coated welded steel frame and your choice of black, South African Kiaat (shown in photos), Cherry or Walnut finish. The natural Kiaat stand includes Kiaat veneer panels with solid Kiaat fascia boards. The Cherry and Walnut stands are also made with veneer panels and solid fascia boards. The black stand is made of medium density fiber board.

All fascia panels are magnetized and removable for easy access to lights, misting lines and vivarium canopy vents. Earthquake straps are included to help secure against unintended tipping. 
The lower cabinet can comfortably house 2 InSitu reservoirs (one for misting, the other as a wastewater sump), power strip, misting pump and Neptune Systems Apex controller. Rolling casters on the bottom of the tower allow for easy movement of the entire display system.

The Tower Display stand does NOT come with vivariums, reservoirs, misting systems or plants.

Dimensions: 70 7/8 x 22 5/8 x 20" (1800 x 575 x510 mm)
Weight: 99 lbs (45 kg) 
ORDERING INFO: We charge $25 deposit to hold your order through the ordering period.  Once the ordering period is finished, will send an invoice for the remaining amount.  You may cancel the order any time until that point, and we will refund your deposit.
Pricing for the Tower Display Stand is as follows:
Kiaat, Cherry, or Walnut Towers:        $990
Black Towers:                                      $890
We bill shipping charges for the display stand separately, once it is completed and ready to ship from South Africa.  We require 10 unit orders to begin the build process, which may take a total of 4-6 months from the time you order to receiving your tower.  The buyer is responsible for shipping, duty, import fees and brokerage charged by their respective country.  Shipping charges will likely be from $300-450 depending on final delivery location.  These stands are non-refundable, and once a finish is specified, it is not changeable after manufacturing has begun.
Made in South Africa