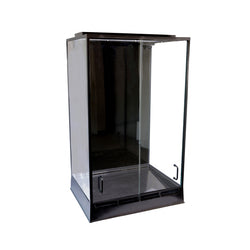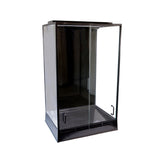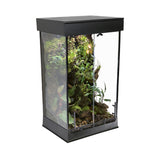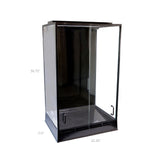 If you're looking for a taller vivarium option to increase your hardscaping and planting potential, the Alto is it. The enclosure stands at 36.75" tall (including light canopy) and has the exact same footprint as our Amazonia (22.25" wide x 17.5" deep).  
It is a complete standalone vivarium package and includes both our LED light system and dual air circulation fans built in and ready to go. Imagine the Amazonia stretched vertically, with some upgraded features to help with the increased height:

The LED lens is now clear glass to allow deeper light penetration

We've increased the voltage on the circulation system to create greater circulation capability. 
2 door handles to allow easy opening and removal of the doors (standard 3" handles can be changed out/customized to your preference)
The composite back panel comes standard on the Alto, resulting in a weight reduction of 13 lbs (6kg)
 Alto's are now shipped in corrugated cardboard boxes.
Vivariums typically ship within 24 hours. However, depending on factory loading, they could take up to 4 business days to build and ship.  
Made in the U.S.A.

WEIGHT 
42 lbs (19 kg)

DIMENSIONS (width x height x depth) 
22.25 x 36.75 x 17.5" 
(57.15 x 93.3 x 44.5 cm)