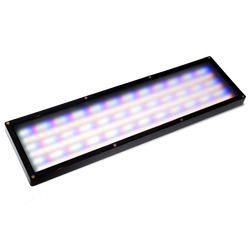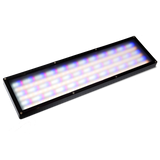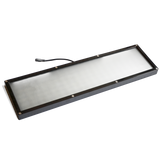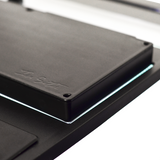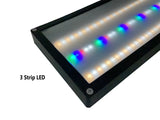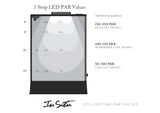 Our Lighting Units now come in 3 strip (new) or 6 strip (classic) versions. 
Our  lighting units are designed for use with any Selva or Selva Plus vivarium: it can simply be placed on top of the light bay on all standard Selva vivariums or directly installed into all Selva Plus and Amazonia vivarium canopies.
A frosted glass lens distributes light evenly and eliminates the harsh qualities of typical LED light sources.  Choose between either three or six diode strips to provide the light you need.  Six strips will provide plenty of light for orchids and other high intensity plants.  Three strips are better for lower light plants, like aroids or anthuriums.  The entire unit can be disassembled for maintenance and cleaning.
The LED's white, warm white, red, and blue, and now also includes green which reduces reflected white light, which gives a more natural look to your terrarium.  An additional new feature is Near Infra Red (NIR), which helps promote healthy, stockier plant growth.
Options:   

When you choose the six strip light unit, you receive the light unit plus a 12V 6A power supply, dimmer, and conversion fasteners so you can attach it directly to your terrarium.
When you choose the three strip light unit, you receive a 12V 4A power supply, and conversion fasteners only, as no dimmer is required.
Please refer to the PAR output diagrams in the picture window to understand outputs of the two options.

DIMENSIONS: 20 3/4 x 1 x 5 7/8" (525 x 25 x 150mm)
WEIGHT: 4.5 lbs (2kg) 
Made in the U.S.A.