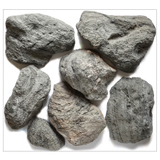 There is nothing more amazing than hiking through the Caynarachi canyon (or any rainforest valley, for that matter) and seeing water dripping down the faces of rocks and boulders, epiphytic and climbing plants draping the landscape like lush botanical curtains. 
Recreating this effect is a worthy challenge, so we decided to help by offering this natural yet lightweight pumice stone material. Used in combination with our Rio water flow system, you can create a truly beautiful in situ microcosm in your own home.
Natural pumice is an ideal background material because it doesn't degrade over time and is incredibly light (especially compared to actual rock).

Each stone is cut on one side to create a veneer and provide you with a flat surface to adhere to the back of the vivarium. Each piece is larger sized (approx. 1.2  lbs each) and can be broken to make smaller pieces if desired. You can shape and smooth each piece by rubbing them together (it's important to rub off sharp edges to prevent injury to animals). Once you decide on placement, pumice pieces can be adhered to the back panel using ordinary silicone adhesive. Once set, we recommend rubbing the areas where plants will grow with soil in order to fill the pores and give roots nutrients and places to grow into.
We provide approximately 12 lbs of pumice (8-10 pieces) for Selva and Amazonia vivariums, which will cover an area of approximately 20" x 20".
We provide approximately 18 lbs (12-15 pieces) for Alto vivariums, which will cover an area of approximately 20" x 32".