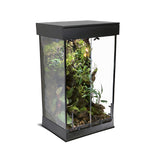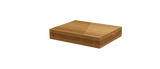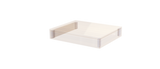 Our Cielo Canopy has been designed specifically for use with InSitu Alto, Amazonia, or Selva vivariums to act as a finishing piece that lays across the top of the terrarium and, thus,  creates a striking and functional display.

The Cielo Canopy is used on the Largo Display Stand, as well as the El Dorado and El Oro display stands, and can be seen on those product pages as well.
The Cielo Canopy comes from the USA, and is made from wood plywood. 
 AVAILABLE FINISHES
Each canopy is constructed from Oak or Birch veneer plywood at the Customer's discretion.  The oak veneer can be stained any natural wood color.  Birch veneer can be tinted any solid color the Customer desires.  If desired, other veneers, such as Cherry and Walnut may be ordered for an additional charge.  

 The Cielo Canopy does NOT come with vivariums, reservoirs, misting systems or plants.
 Canopy Dimensions: 23W x 18D x 4H" (585 x 457 x101 mm)
Weight:  7 lbs (3 kg) 
ORDERING INFORMATION:  Each canopy is manufactured in the USA specifically for each Customer.  Canopies take approximately 6 weeks to finish.   
Made in The USA.