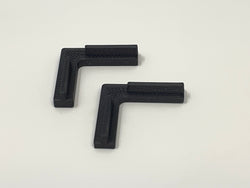 Every once in a while, terrariums undergo distortion, either through settling, shipping, or hard scape installation.   These leveling clips attach to the back corners of the terrarium and help adjust the terrarium interface with the glass doors to fix gaps between the doors and the side extrusions.  Usually, only one is required (under the rear corner of the side with the gap at the top).
We provide these clips for free.  So, be sure to ask if you have a problem with gaps.
We ship one clip per order.
We request that you order these one at a time.