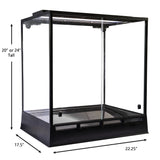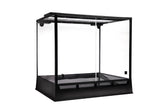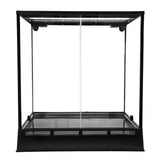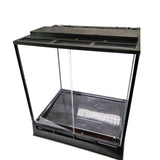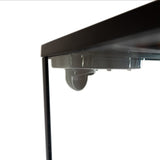 InSitu Ecosystems
AMAZONIA CLASSIC & NEW AMAZONIA
The Amazonia comes in two height versions: The Amazonia Classic, and the New Amazonia
The Amazonia now comes in two Styles and Sizes. 

Check out our video to see which is right for you: 
The Amazonia Classic vs New Amazonia
Click Here if you would like to upgrade your New Amazonia to have an independent power supply for your circulation system.
Click HERE to upgrade to a lightweight Alumalite back panel (pictured).

The Amazonia Class and New Amazonia are our ultimate standalone vivarium packages, and includes both our LED light hood and dual air circulation fans built in and ready to go. The Amazonia also includes all the foundational innovative features of the Selva Plus, including:
Base and hood made from ABS thermoplastic (the same material LEGOs are made from)
Sloped base deck and integrated drain/plumbing
Door tracks with integrated 'bumpers' that create a seal and prevent fruit flies from escaping
Annealed glass doors, light bay and rear vent cover
Annealed glass sides and back
Black powder-coated stainless steel screens
Three pre-drilled misting head holes (with plugs) in front of the light bay
Three drilled 'starts' for integrating additional misting heads behind the light bay
Three adjustable front hood vents and adjustable rear vent
The differences between the Amazonia Classic and the New Amazonia are:
The New Amazonia only has 3 LED Strips instead of the traditional 6. 
The New Amazonia only has one power supply and no dimmer.
On the New Amazonia, if separate control of the lights and fans is required, either an LED controller, such as the TC420, should be connected between the power supply and the LED lights, or, the purchaser should just upgrade to the Amazonia Classic.
See our Feature Table to the below that shows a comparison between the two terrariums.

Vivariums typically ship within 24 hours. However, depending on factory loading, they could take up to 7 business days to build and ship.  

Made in the U.S.A.
| Features | Amazonia Classic | New Amazonia |
| --- | --- | --- |
| Composite Back Panel for Lightweight | | |
| Sloped Drainage Deck | | |
| Front and Rear Vent Covers | | |
| Circulation Fans | | |
| Independent power supply for fans | | |
| Full Spectrum LED Lights | 6 strips | 3 strips |
| 20" Tall | | |
| 24" Tall | | |
DIMENSIONS & WEIGHT – 24 TALL
All-glass vivarium: 32 lbs (14.5 kg) 
With Alumalite composite back: 24 lbs (10.9 kg)
Unit footprint: 22.25 (565mm) x 17.5" (445mm)
Height:  24" (610mm)


DIMENSIONS & WEIGHT – 20 TALL
All-glass vivarium: 27 lbs (12.4 kg) 
With Alumalite composite back: 22 lbs (9.7kg)
Unit footprint: 22.25 (565mm) x 17.5" (445mm)
Height:  20.25 (515mm)