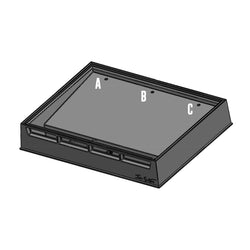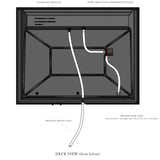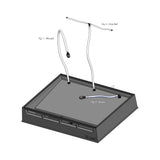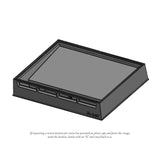 RIO Water Flow System - Factory Install
Free installation is already reflected in the current listed upgrade price. 
A rushing creek in a mountain ravine, the steady trickle of water down a rocky embankment, a winding stream through a lowland rainforest... Capturing the essence of water in the wild is a worthy goal, and one we have taken deeply to heart. These environments inspire us to create microcosms of tranquility within our homes, and we have developed a system that enables you to do just that.
The Rio Factory Install  includes all of the components you need to create your choice of a stream, waterfall or drip wall, including: 

Pump assembly
Regulated 9V power supply and potentiometer (dimmer)
5 feet of connecting tubing
All necessary strainers and bulkhead fittings
1 filter sock
Misc. mounting hardware
Choice of approach (stream, waterfall, drip wall)
Choice of where the internal penetration will be located 
Custom fabrication of your vivarium in accordance with your selection
NOTE: A downloadable user guide can be found on our Resources page (located below in the footer) that includes instructions for installing your components, priming the pump and system start-up, and best practices for ongoing system management.
We do not recommend the Rio system for terrariums that have animals in them.  Our experience is that nutrients that collect in the water can cause plant infections and other detrimental conditions.
RELATED PRODUCTS
The Rio is just one part of a larger system we have designed. To prevent waterlogged substrates that break down over time, we recommend using an Epi-Web or Matala synthetic substrate mat. For the look of real stone (but not the weight), we offer pumice stone background kits as well as individually available accent stones.