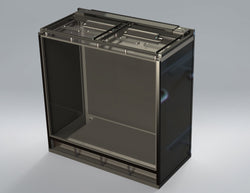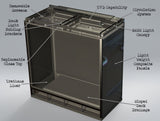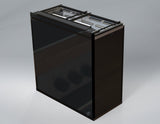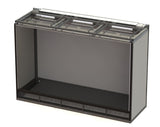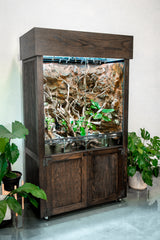 Have you ever dreamed of the rainforest right in your living room? Large format vivaria/terraria are an ethereal way to realize dreams of Bornean forests, South American cordilleras, or Choco in your home, office, or institution.   Only large format structures allow plants and animals to reveal and experience their potential.  The Orinoco is the result of years of experience in designing, building, and maintaining large format terrariums, and its presence in your home, office, or institution will be a journey of discovery and awe.
The Orinoco comes in two sizes:  48" x 24" x 48" (1220 x 610 x 1220mm) and 48" x 24" x 72" (1830 x 610 x 1220mm).  The basic terrarium/vivarium has the following standard features:
Black anodized aluminum interior and exterior framing that is bonded with techniques adapted from aerospace principles
Light weight aluminum composite panels that ensure ease of mobility
A waterjet cut glass top that is interchangeable/replaceable and has these features:

Mist head locations (8 for the 48" and 10 for the 72")
Optional UVB lighting capability, developed for Arcadia 12" T5 fixtures
Removable screens
Options Available include (Free from now until the end of September 2022):
A sloped deck that minimizes water retention inside the structure
Polymer liner that helps ensure leak free service
Circulation system that effectively distributes air throughout the interior, as well as connects to fog system upgrades (if desired).
80/20 light canopy that has numerous functions:

Brackets for holding "bank" lights, such as In Situ's, Radion's, Spectral Designs, or others
Connection capability for the Spot Light/Cabinetry upgrades
Upgradability to full system capability if appropriate options above are chosen:
Welded stand assembly
Custom Cabinetry
Apex control and fog generation
Pictures shown include all possible options.
This terrarium does not include welded stands, cabinetry, controllers, or spot light capability.  These components may be added on either during the initial order or afterwards.
Weight for the -48 is about 75 lbs, and for the -72 about 100 lbs,  Shipping is not included in the pricing.
This terrarium/vivarium does not include plants, animals, or hardscape background or materials.