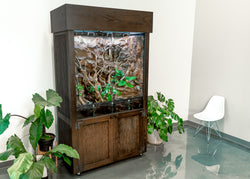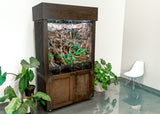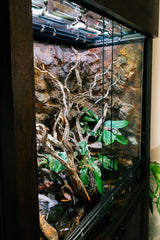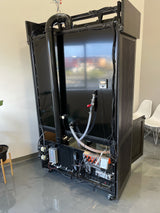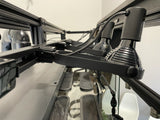 Have you ever dreamed of the rainforest right in your living room? Large format vivaria/terraria are an ethereal way to realize dreams of Bornean forests, South American cordilleras, or Choco in your home, office, or institution.   Only large format structures allow plants and animals to reveal and experience their potential.  The Orinoco is the result of years of experience in designing, building, and maintaining large format terrariums, and its presence in your home, office, or institution will be a journey of discovery and awe.
The Orinoco Grande' is an enthusiast's ultimate expression of creativity, lifestyle, and passion.  Designed to mimic, as closely as technology allows, the natural environment of rainforest plants and animals, the Orinoco is second to none.  And, as years go by, we expect incomparable service and maintainability.  
Visit our Youtube channel to see the Orinoco:  Orinoco Video
For persons interested in the Orinoco's inspiration, be sure to watch this video of The Falls, which was built in 2016 by the Founder's Sirensis Highland collection.
Potential features of your Orinoco are as follows:
Orinoco -48 or -72 Terrarium
El Mulo welded stand
Brume fog generator and its connection to the circulation system
Orinoco Spot Light Canopy and In Situ Banked Lights
Neptune System's Apex control system
Dual mist system with premium fittings
Custom Cabinetry
Neptune Systems Cor-15 pump
Sump drainage system
Custom carved foam deck (to accommodate the customer's design objective)
Custom background work
Curated Plant Packages
The initial delivery period for the Orinoco is approximately 90 days from placement of order.  However, In Situ will be working to drive this period down to about 30 days, depending on requests for custom work on the order.
 The -48 Rio Grande' is the pictured system.  The -72 is similar but 2 feet wider.  
Pricing is determined during the customer interview process, and depends on whether all or just some of the above features are desired.