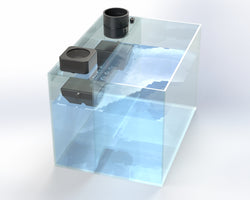 Nothing conjures up visions of an Andean cloud forest more than a thick blanket of fog.  So, we rolled up our sleeves and created the Brume.

Eight large sized mist heads emit copious billows of fog that can be piped off to one of our Orinoco large format terrariums, or to your own manifold system and individual terrariums. 
The Brume has two additional penetrations in case you want to use the water reservoir for your mist system(s).
The basic size is:  16" W x 22" D x 14.75"H (406 x 560 x 375mm), and holds about 15 gallons of water.   The output connection is a standard 3" Schedule 40 pipe.  Distilled water helps keep the ultrasonic heads clean, although, regular cleaning with vinegar or other calcium deposit remover is also possible.