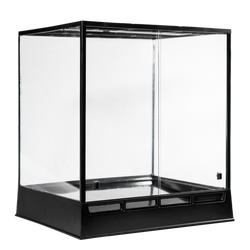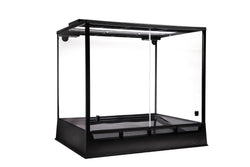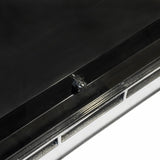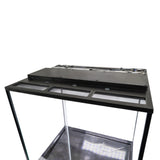 The Selva Plus now comes in 20 and 24 Inch tall versions.

Click HERE to upgrade to a lightweight  composite back panel.
The Selva Plus goes a step further than the Selva with a modified hood design that allows for future customizations for complete environmental control, including our custom LED light unit and air circulation fans. The Selva Plus also includes all the foundational innovative features of the Selva, including:
Base and canopy made from ABS thermoplastic (the same material LEGOs are made from)
Sloped base deck and integrated drain/plumbing
Door tracks with integrated 'bumpers' that create a seal and prevent fruit flies from escaping
Annealed glass doors, light bay and rear vent cover
Annealed glass sides and back
Black powder-coated stainless steel screens
Three pre-drilled misting head holes (with plugs) in front of the light bay
Three drilled 'starts' for integrating additional misting heads behind the light bay
Three adjustable front hood vents and adjustable rear vent
If you want to include both lights and air circulation on your vivarium, see our AMAZONIA. 
Add on pricing is only applicable if you purchase a Selva Plus model vivarium (20 or 24) at the same time.

Vivariums typically ship within 24 hours. However, depending on factory loading, they could take up to 7 business days to build and ship.

Made in the U.S.A.