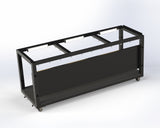 Is there anything tougher than a mule?  Our welded stands could come close.
Designed specifically for the Orinoco large format terrarium, this stand has a lot of features  that take the work out of maintaining and moving the system. 
The Base stand has the following features.
Welded and powder coated steel frame
500 lb rated wheels with precision bearings and locks that enable a fully loaded system to glide over many surfaces, and then stay put
The Systems Capable version has these additional features:
Cabinet lights
A coated lower panel that both keeps things from sliding, as well as protects from spills and moisture
A systems panel that enables mounting of numerous devices
Cable clips that help keep wires out of the way
The stand comes in two sizes, the -48, which holds the 48 inch version of the Orinoco, and the -72, which holds the 72" version. 

Specific dimensions for each are as follows:
-48

Terrarium holding surface:   24" x 48" (609 x 1219mm)
Height :  30" (762mm)

-72

Terrarium holding surface:   24" x 72" (609 x 1828mm)
Height:  30" (762mm)
The -72 is shown, the -48 is similar except for length and some details.
Pictures show the Systems Capable version.   The Base version is not shown.
Shipping is not included and will be calculated and added to the final invoice prior to shipment.