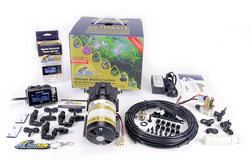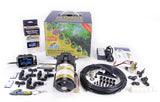 Ultimate Misting System V5.0
This system is MistKing's intermediate kit which acts as a starting point for customization later on or can be used on a smaller scale the way it is. This system is based on a robust pump with MistKing's latest timer providing exceptional and reliable performance. It can easily run 1 nozzle or as many as 20. If you're planning to run more than 20 be sure to upgrade the pump or order the Advanced Misting System.
Items included in the kit: 
24 volt DC misting pump
ST-24 timer
3 value L misting heads
Reservoir bulkhead fitting
Small reservoir filter
10 tubing clibs
25 ft. of 1/4" tubing
1 T connector
1 L connector
Zip Drip valve
Cable Y connector
Reference manual
This item includes free shipping.